Clinician Benefits
The safer, faster and more effective way to manage liquid medical waste.
SuperSolid Plus ® and SafeSorb® are solidifiers formulated to be pre-loaded into an empty suction canister PRIOR to starting a procedure. This significantly reduces the risk of spills, as well the aerosolization and spread of bloodborne pathogens, while increasing the speed and efficiency with which waste can be disposed of.
SuperSolid Plus and SafeSorb help your facility stay compliant with the most rigorous safety and transportation regulations, as mandated by OSHA and the U.S. Department of Transportation.
With SuperSolid Plus, treated canisters can be disposed of as "white bag" waste in most states, which will significantly reduce transportation and disposal costs.
| Benefits | SuperSolid Plus | SafeSorb |
| --- | --- | --- |
| Ensures that waste is solidified AND decontaminated. | | |
| Maintains the integrity of a closed suction system by eliminating the need to ever open the canister. | | |
| Suction canister is solidified when the procedure is completed – no waiting! | | |
| Continues to solidify for up to 48 hours as new fluid is introduced. | | |
| Can be used for both large and small fluid volumes. | | |
| Does not increase the volume of the canister contents, allowing for an accurate reading of the contents when the procedure is complete. | | |
| Complies with U.S. Department of Transportation disposal requirements for liquids without the addition of liquid absorption packaging material. | | |
| Approved for "white bag" waste disposal and direct landfill deposit in most states. | | |
| Available with EZ Spout cap. | | |
---

Environmental Service Benefits
Emptying suction canisters into a hopper is extremely dangerous as it unnecessarily exposes employees, patients and the facility at large to significant levels of aerosolized bloodborne pathogens.
An independent study by the American Society of Microbiology has shown significantly increased bacterial populations in the air space surrounding canister dumping sites. 1 Once the pathogens are released into the air, they can be transmitted via hands and clothing, and dispersed throughout the facility via the HVAC system.
To prevent the spread of disease and infection, OSHA's Bloodborne Pathogens Standards require facilities to establish an exposure control plan that minimizes or eliminates employee exposure to bloodborne pathogens. When combined with proper waste disposal, SafeSorb and SuperSolid Plus serve as an effective means of meeting these standards and preventing cross contamination of bloodborne pathogens.
View the full OSHA requirements »
Hazards Associated with Emptying Suction Canisters into a Hopper »
(via the American Society of Microbiology)
The U.S. Department of Transportation requires Regulated Medical Waste (RMW) to be packaged in accordance with regulation 49 CFR 173.197. Liquid RMW packaging must contain enough absorbent material to solidify the entire amount of liquid present, in case the contents are accidentally spilled. The liquid RMW must also be packaged in a rigid inner packaging, less than 5 gallons.
However, waste material containing an absorbed liquid (such as those that have been treated with SuperSolid Plus or SafeSorb) may be packaged as a solid.
Additionally, many states allow for waste that is treated with SuperSolid Plus to be disposed of as treated waste or white bag medical waste.
By eliminating the need for additional treatments and packaging, SuperSolid Plus and SafeSorb make it easier and more affordable for your organization to remain compliant with DOT regulations.
See the full Code of Federal Regulations »
1. Neblett TR, Rossmoore HW, Wireman JW, 1983 Annual Meeting of the American Society of Microbiology (abstract No. 1091)
SuperSolid Plus is an EPA registered liquid medical waste treatment technology that combines all of the safety benefits of our original SafeSorb solidifier with a powerful Treatment Technology to further reduce the risk of exposure to dangerous bloodborne pathogens.
Learn More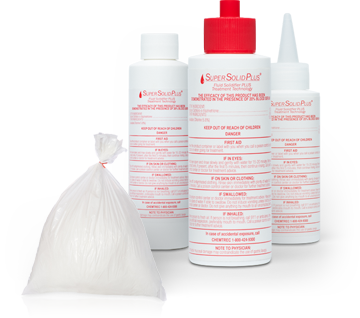 SafeSorb is the premier solidifier of liquid medical waste. It allows healthcare personnel to solidify waste without compromising the integrity of the closed-suction system, for increased safety, convenience and accuracy.
Learn More