Solidifiers
Liquid Medical Waste Disposal Made Easy.
SuperSolid Plus and SafeSorb solidifiers allow healthcare professionals to quickly and safely dispose of liquid medical waste. These easy-to-use and cost-effective treatment solutions for liquid medical waste help healthcare facilities remain in compliance with OSHA and U.S. Department of Transportation regulations, reduce potential exposure to dangerous blood-borne pathogens and save money.
Learn more about the importance of solidifying medical waste.
---
Our Products

SuperSolid Plus is an EPA registered liquid medical waste treatment technology that combines all of the safety benefits of our original SafeSorb solidifier with a powerful Treatment Technology to further reduce the risk of exposure to dangerous bloodborne pathogens.
View Products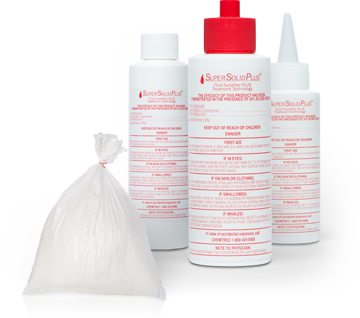 SafeSorb is a fluid solidifier which is formulated to be pre-loaded in an empty suction canister before the procedure starts. This allows healthcare personnel to solidify waste without compromising the integrity of the closed-suction system, for increased safety, convenience and accuracy.
View Products