Disorb Systems Inc. receives its SDVOSB (Service Disabled Veteran Owned Small Business) Certification from the VA's Center for Verification and Evaluation (CVE)
Thursday, June 11, 2015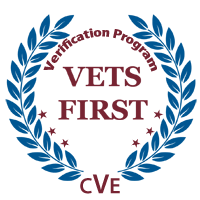 The Department of Veterans Affairs (VA) Has Special Authority for Service-Disabled Veteran-Owned Small Business/Veteran-Owned Small Business (SDVOSB/VOSB) Set-aside and Sole Source Contracts.
Public Law (P.L.) 109-461 entitled "Veterans Benefits, Health Care, and Information Technology Act of 2006" provides VA with unique authority for contracting with SDVOSB and VOSB. A new procurement hierarchy within VA for open market procurements was created which places our highest priority with SDVOSB followed by VOSB. These are followed by 8(a), HUBZone, Woman-Owned Small Business, then all other Small Businesses. This procurement authority, and its subsequent implementation, is a logical extension of VA's mission, to care for our nation's Veterans. VA refers to this program as the Veterans First Contracting Program. See VA Acquisition Regulation Part 808, Required Sources of Supplies and Services, for the priorities in acquisition..
In order to qualify for participation in the VA Veterans First Contracting Program, eligible business owners must first be verified.
---
View All News